---
---
Note : Due to increasingly high demand, all bicycle sales are subject to vary in shipping/delivery times.
Climb, corner and descend with unrivaled all-rounder performance. From the mountains to the flats, in all types of conditions, the new TCR Advanced Pro Disc takes it to the next level with a lighter, stiffer frame and new aero-engineered tubing.

The all-new TCR Advanced Pro Disc gives you the lightweight performance to score the KOM plus the confidence to push your limits on technical descents. This podium-seeking all-rounder is re-engineered with an Advanced-grade composite frame that boasts an outstanding stiff-to-weight ratio, along with new aerodynamic tube shaping in the headtube, downtube and fork. It also features added frame and fork clearance for larger diameter tires up to 32mm, making it a versatile race machine for all types of road conditions. With its proven Compact Road geometry, OverDrive 2 front end, flat-mount disc-brake integration and smooth-riding Variant seatpost, this is a race-tuned performer that excels in all aspects of road riding.
KEY PERFORMANCE FACTORS
Class-leading efficiency
With an outstanding stiffness-to-weight ratio and updated aero tube shaping, this frameset is engineered to give road racers and riders superior climbing capabilities, aerodynamic efficiency and sprint stiffness for race-winning performance.
Advanced aerodynamics
This is where the TCR's most quantifiable gains can be found compared to previous generation models. Every tube shape was analyzed, engineered and tested to create an overall structure with significantly lower drag at a wider range of yaw angles. The result is a TCR that's faster than ever in sprints and solo situations.
Total control
Integrated disc brakes deliver smooth, powerful stopping power and modulation for added control in variable weather and road conditions. Flat mounts and new thru-axles boost stiffness and improve overall handling, while added frame and fork clearance allows for larger diameter tires up 32mm.
HIGHLIGHTS
Combining lightweight composite frame engineering with strategic aero tube shaping and integrated disc brakes, the new TCR Advanced Pro Disc series delivers versatile road racing performance. Here's a look at its key technologies.


ADVANCED COMPOSITE TECHNOLOGY
Giant's High Performance Grade raw carbon material is used to produce this custom frame material in our own composite factory with a high stiffness-to-weight ratio. The front triangle of these framesets is assembled and molded as one continuous piece in a proprietary manufacturing process called Modified Monocoque Construction.

COMPACT ROAD DESIGN
Introduced by Giant with the professional Team ONCE in the 1990s, Compact Road revolutionized the look and feel of high-performance road bikes forever. A downward sloping toptube (from the headtube to the seattube) creates smaller front and rear triangles for a lighter, stiffer bike. It also makes it easier for riders of all sizes to have a perfect fit.

MEGADRIVE
A massive rectangular downtube and oversized toptube work in unison to provide superior front end lateral and torsional steering precision. The precisely engineered, rectangular shaped downtube yields unprecedented steering and pedaling stiffness.

OVERDRIVE 2
The most advanced steerer tube technology in today's Giant bikes. Designed to offer unprecedented front-end steering performance, the system's oversized headset bearings (1 1/2" lower, 1 1/4" upper) and tapered steerer tube work in harmony to provide supreme steering stiffness.

POWER PRO
Tracking your power output and training data has never been easier. The Power Pro system delivers accurate information with an integrated system that's precise, reliable and simple to set up. The most effective training is smart training, so start training with power.

POWERCORE
A massively oversized bottom-bracket/chainstay area features a fully integrated, 86-millimeter wide bottom-bracket design (92-millimeter wide for off-road bikes). Asymmetric chainstays provide additional stiffness on the driveside and stability on the non-driveside.
RIDESENSE READY
This frame comes prepared to accept the Giant RideSense sensor and accompanying hardware.

TUBELESS SYSTEM
Fewer flat tires. Greater traction. Less rolling resistance and a smoother, faster ride. Giant's Tubeless System makes it easier than ever to experience all these benefits.

VARIANT SEATPOST
This proprietary seatpost design offers an optimized balance of light weight, superior ride quality and simple adjustment to enhance the total race performance of the TCR road range.

HOOKLESS RIM DESIGN
Hookless rim design enhances overall durability, offers a wider inner rim width without adding extra weight and also helps create a more round tire shape providing superior grip and handling as well as added sidewall support when cornering. Additionally, without the rim hook to "push" the tire bead inward, hookless rim design offers a more seamless airflow between the tire and the sidewall of the rim, resulting in less drag and improved aero performance when compared to standard hook-type rims.
Sizes
: XS, S, M, ML, L, XL
Colors
:
Matte Rosewood / Matte Carbon / Gloss Unicorn White
Frame
: Advanced-Grade Composite, disc
Fork
: Advanced-Grade Composite, full-composite OverDrive 2 steerer, disc
Shock
: N/A
Handlebar
: Giant Contact SL
Stem
: Giant Contact SL
Seatpost
: Giant Variant, composite
Saddle
: Giant Fleet SL, composite base, SST rails, UniClip accessory mount
Pedals
: N/A
Shifters
: Shimano Ultegra Di2
Front
Derailleur
: Shimano Ultegra Di2
Rear
Derailleur
: Shimano Ultegra Di2
Brakes
: Shimano Ultegra hydraulic (F:160mm, R:140mm)
Brake
Levers
: Shimano Ultegra Di2 hydraulic
Cassette
: Shimano Ultegra, 11-speed, 11x30
Chain:
KMC X11SL-1
Crankset
: Shimano Ultegra, 36/52with Giant PowerPro power meter
Bottom
Bracket
: Shimano, press fit
Rims
:  Giant SLR-1 Carbon Disc WheelSystem, 42mm
Hubs
: Giant SLR-1 Disc WheelSystem, 12mm thru-axle
Spokes
: Giant SLR-1 WheelSystem, DBL technology
Tires
:
Giant Gavia Course 1, tubeless, 700x25c, folding
Extras
: RideSense ANT+/Bluetooth, computer mount, tubeless prepared
Weight:
The most accurate way to determine any bike's weight is to have your local dealer weigh it for you. Many brands strive to list the lowest possible weight, but in reality weight can vary based on size, finish, hardware and accessories. All our bikes are designed for best-in-class weight and ride quality. 
SIZING GUIDE AND GEOMETRY
Sizing to be used as a reference only. Please check with a local authorized Liv or Giant dealer to determine the correct size.
Available sizes may vary from country to country.
XS

 

 

5'2"

 -

 

5'7"

S

 

 

5'5"

 -

 

5'9"

M

 

 

5'7"

 -

 

5'11"

ML

 

 

5'10"

 -

 

6'2"

L

 

 

6'0"

 -

 

6'4"

XL

 

 

6'2"

 -

 

6'6"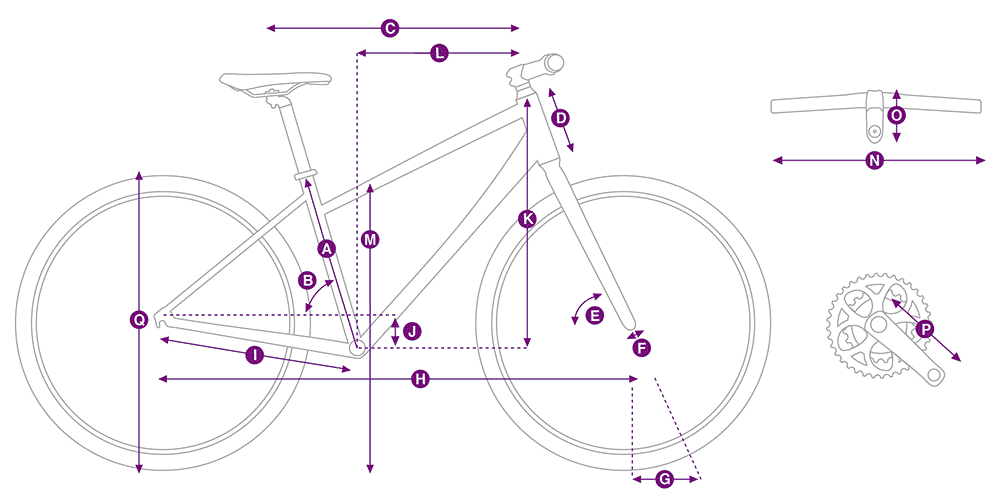 XS
S
M
ML
L
XL

A

SEAT TUBE LENGTH

 

(inch)

16.7

17.5

18.5

19.7

20.9

22

B

SEAT TUBE ANGLE

74.5°

74.0°

73.5°

73.0°

73.0°

72.5°

C

TOP TUBE LENGTH

 

(inch)

20.5

21.1

21.7

22.2

22.8

23.6

D

HEAD TUBE LENGTH

 

(inch)

4.7

5.1

5.7

6.5

7.3

7.9

E

HEAD TUBE ANGLE

71.0°

72.3°

73.0°

73.0°

73.0°

73.0°

F

FORK RAKE

 

(inch)

1.8

1.8

1.8

1.8

1.8

1.8

G

TRAIL

 

(inch)

2.8

2.5

2.3

2.3

2.3

2.3

H

WHEELBASE

 

(inch)

38.4

38.5

38.6

39

39.6

40.2

I

CHAIN STAY LENGTH

 

(inch)

15.9

15.9

15.9

15.9

15.9

15.9

J

BOTTOM BRACKET DROP

 

(inch)

2.8

2.7

2.7

2.6

2.6

2.6

K

STACK

 

(inch)

20.4

20.8

21.5

22.1

22.9

23.5

L

REACH

 

(inch)

14.8

15.1

15.3

15.5

15.8

16.2

M

STAND OVER HEIGHT

 

(inch)

27.8

28.5

29.4

30.4

31.5

32.1

N

HANDLEBAR WIDTH

 

(inch)

15.7

15.7

16.5

16.5

17.3

17.3

O

STEM LENGTH

 

(inch)

3.1

3.5

3.9

4.3

4.3

4.7

P

CRANK LENGTH

 

(inch)

6.7

6.7

6.8

6.8

6.9

6.9

Q

WHEEL SIZE

700C

700C

700C

700C

700C

700C
Note: In Store Pick Up Only 
---